Team Frozen Lime Asia has a great day out at Ria Bintan Golf Club
Team FLA was invited to Ria Bintan Golf Club last week to experience a Corporate Golf Clinic. Ria Bintan, designed by Gary Player, is an award-winning golf course, much loved by golfers near and far, and is celebrating its 20th Anniversary this year - we were more than pleased to visit!
The excellent service staff who were with us throughout, made the whole experience truly welcoming and enjoyable.
Learn Golf Clinic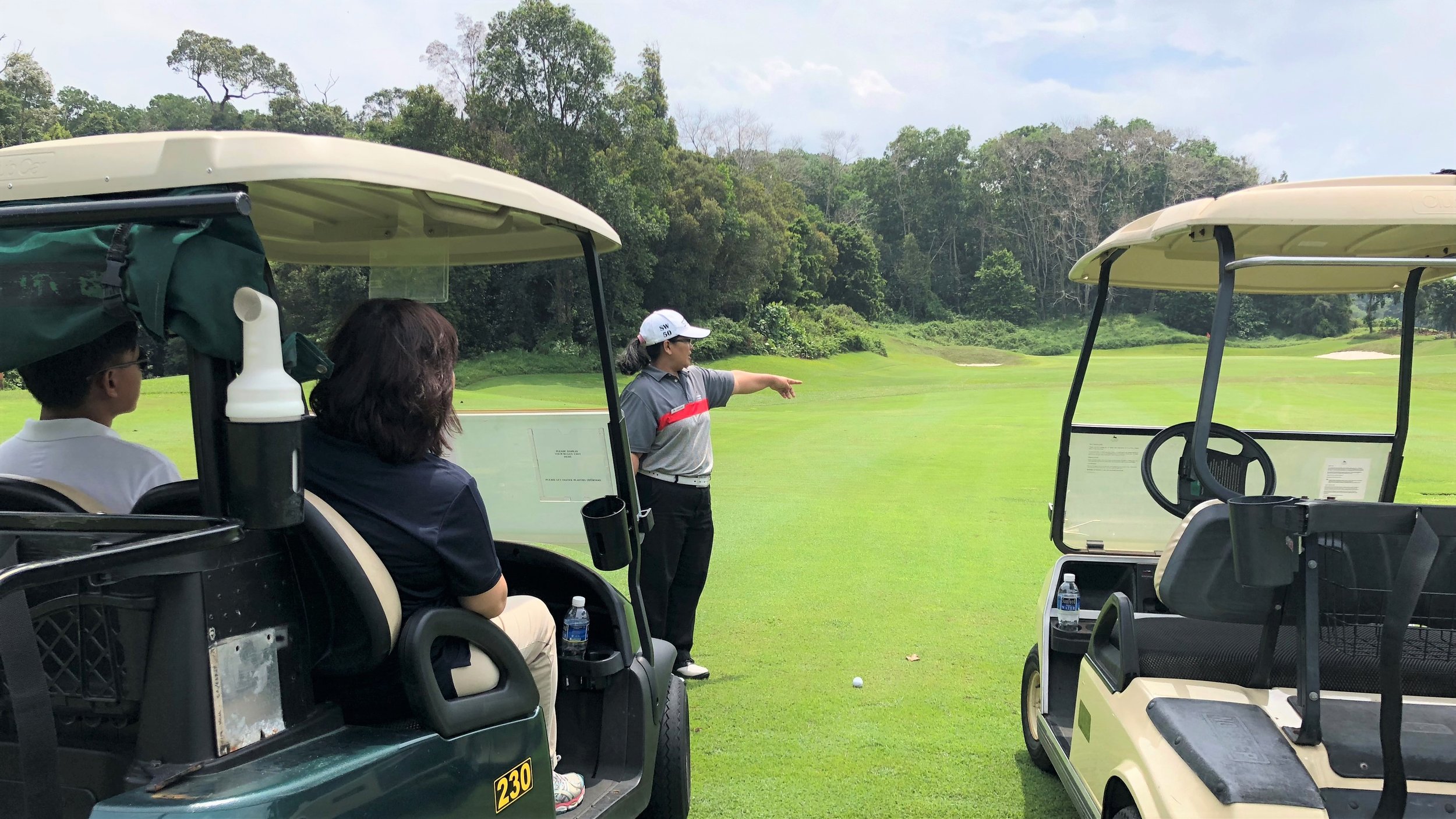 Upon arrival at Ria Bintan Golf Club, the friendly Team RB and refreshing cool towels were so welcoming on a hot humid day. Once changed and ready, we were taken around the club and then to the driving range. Enthusiastic Mr Rokib gave us an overview of the Golf Clinic program which usually lasts about 5.5 hours long, but it can be shortened or lengthened as required by different groups.
A warm-up session kicked us off, which included a few fun, laughter-filled team-bonding activities.
Next, we were on to the rudiments and fundamentals of golf, comprehensively introduced by the knowledgeable Ms Endang. After the easy-to-understand theory, it was time to swing it! The staff were encouraging and supportive, providing clear demonstrations and tips for a good tee shot. With their guidance, we went from swinging and missing the ball, to hitting it with better aim! Progress in a very short time, well done team!
All too soon, excited and armed with our new golf swings, we headed to Tee Off Restaurant for lunch.
Tee Off Restaurant serves up popular Asian and Western favourites, with a wide variety of dishes to choose from. Popular with this team were local dishes such as Nasi Campur, Nasi Goreng, Mie Goreng Special, Nasi Ayam and Ayam Penyet. As we had to leave for another appointment, we did not experience the "Game of Golf 5 Holes in Forest", which takes about 2.5 hours to complete. Sounds intriguing, must try next time.
The team had this to say of their day out...
Privileged to experience a refreshingly different experience at Ria Bintan Golf Club. Their friendly, knowledgeable and experienced staff made it fun for us newbies to learn about golf while participating in enjoyable team-building activities. Ria Bintan Golf Club is indeed the ideal place for our corporate clients to hold their Team Building events and Corporate Golf Clinics. - Serene
It soon became clear why golfers would travel far to different courses with their heavy golf bags, and play a whole day under the scorching sun. RB Corporate Clinic allows beginners like myself to experience a day as a golfer, from the driving range out to the lush, green, golf course. It was an eye-opener, and allowed my colleagues and I to create unforgettable memories through interesting golf activities. - Zhi Hoe
I really enjoyed soaking in the spectacular forest and sea views around the golf course. Throughout the whole golf-clinic experience, Ria Bintan staff have been really encouraging and helpful. - Leonard
Ria Bintan Golf Club is a 'wow' experience - the serenity, views and greenery of the location was a feel-good start to the day. The Ria Bintan team was on hand to guide us through the essential points of the game, from types of grip, the correct swing, positioning of the club, to identifying the different parts of the golf course. After hitting 100 balls, I've changed my mind about golf being a slow and leisurely game, it gets the adrenaline going! I strongly recommend the Corporate Golf Clinic to companies looking for a great team-building day, Ria Bintan Golf Club is ideal for a quick, accessible short getaway for all. - Jasmine
Out on the Greens
Meanwhile, avid social golfers Lawrence and Aileene took to the fairways. We managed to play the glorious Ocean Blue 9 holes, with playing conditions near perfect - warm, sunny, humid but just great. Fairways and greens were good. Our caddy guided us through the first holes providing tips on distances, clubs and putt lines. We were playing to sixes and sevens, but tried very hard for pars on the round!
The excitement mounted at Hole 7, the first of the holes that plays towards the ocean. Ria Bintan has stunning views of the ocean from this point on; Hole 8 is an amazing tee-off to a blind spot with the fairway almost a 90 degree dogleg left, playing down towards the ocean green! As you try and focus on your golf, you undoubtedly get distracted by the stunning views.
The Par 3 Hole 9 is a challenging tee-off across the bay, water and rocks and on to the green. This famed, signature hole requires no introduction. We managed to get across, but not quite on the green!
Just a fantastic day out on these gorgeous 9 holes, and soon it was time to head back and rejoin the others.
As farewells were exchanged, Team FLA were already discussing when the next golf session will be.
Until next time then, Ria Bintan Golf Club, Happy 20th Anniversary!